SEAWARD ProTag PAC-3760DL

APPLIANCE AND RCD TESTER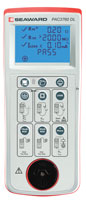 Sales price without tax
$1,199.00
Description
ProTag PAC-3760DL As used by tafeSA / Tas tafe training courses Battery operated and will perform all tests include: Power up run Leakage testing, RCD (10mA – 30mA)
3 Phase (with PAC-TPL adaptor) Display test steps and values – inbuilt isolation transformer for RCD testing. Tags can be printed with the optional printer - hand written without the printer.
Stored test results down load as CSV to PC (In effect an electronic LOG BOOK)
Application: Small to medium business or sole trader with under 100 appliances – hand written tags required without optional printer.
Australia's lowest cost data logging appliance tester - downloads test results to your electronic logbook. Test appliances, 10mA/30mA portable & fixed RCDs and three phase appliances with optional adaptor.

Never have to hand write your log book again!

The Seaward PAC3760 DL is based on the PAC3760 series, Australia's most popular and easiest to use appliance testers. The PAC3760 DL includes download of test results to any spreadsheet or database program - no special software required!

The PAC3760 DL is a next generation PAT tester. It conducts earth bond,
insulation, polarity, portable RCD tests and fixed RCD tests, as well as Leakage Current Tests for Class I and Class II appliances and 3 phase appliances with optional adaptors.

PAC3760 DL Features
Single push button operation

Battery & mains powered

Pass/Fail indication and actual readings

Senses an IEC or extension lead and conducts a polarity test

Detects if the appliance under test is not switched "On"

10mA & 30mA portable and fixed RCD trip time tests

In-Built isolation transformer

Stores 999 test results and downloads CSV file

"Plug N Print" test tag printing - optional PAC-OPT test tag printer

3 phase leakage test - optional 3 phase adaptor required
PAC3760 DL Specifications
Display LCD
Indication PASS/FAIL and Measured Values
Operation 6 Push Button
INSULATION TEST
Test Range 500V DC, 1Mohm at rated mains supply
Pass Level 1Mohm

EARTH CONTINUITY TEST
Test Current 200mA
Pass Level 1ohm

LEAKAGE TEST
Output Voltage 240V AC
Pass Level Class I 5mA, Class II 1mA

MOV DEVICES LEAKAGE TEST
Output Voltage 240V AC
Pass Level Class I 5mA, Class II 1mA

EXTENSION LEAD LEAKAGE TEST
Pass Level 1mA

POLARITY TEST
Pass Indication live/neutral open circuit, short circuit and crossed connections

RCD TRIP TIME TEST
Test Current 10mA/30mA
Test Current Phase 0o/180o auto switched
Display Range 0ms - 500ms
Pass Value 10mA RCD 40ms, 30mA RCD 300ms
Portable & Fixed RCDs
In-Built Isolation Transformer

3 PHASE LEAKAGE TEST
Test Voltage 415V
Pass Value 5mA

POWER SOCKET TEST
Input Voltage Range 255 - 254V AC
Indicators Live to earth voltage, Live to neutral voltage, Neutral to earth voltage
INTERFACES
USB for data download in CSV file format for any spreadsheet or database program
<strong style="margin: 0px;